The list of instructors teaching online for the Sustainable Food and Farming Program includes UMass faculty, faculty from other universities, and skilled practitioners in their field of expertise. We are a diverse group of folks with a common interest in sustainable food systems and quality online instruction.
Stacy Adams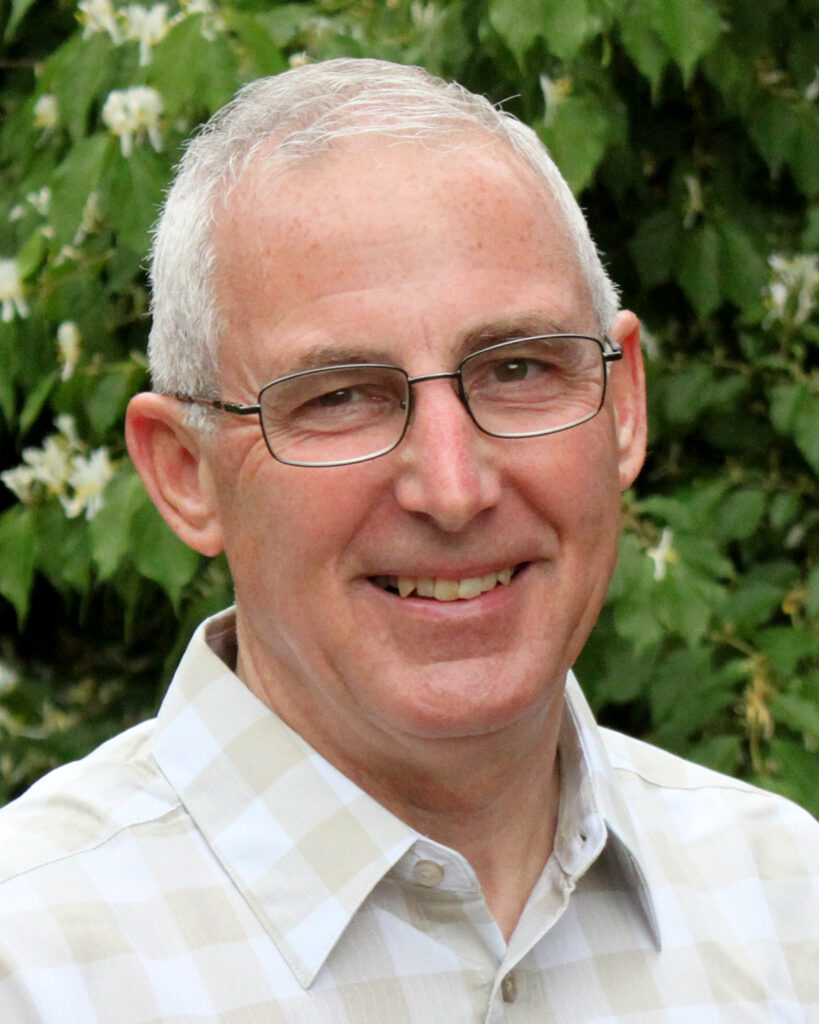 Stacy is an associate professor of horticulture at the University of Nebraska with expertise in greenhouse management, seasonal plant production, and the production of fresh produce using hydroponics. He has previous experience as a commercial greenhouse grower and additionally has owned an operation at his farm in Firth, NE. Stacy served as greenhouse manager for 24 years before becoming a professor of practice at the University of Nebraska in 2009. He presently teaches plant science, greenhouse management, greenhouse crop production, hydroponics, and floral design. For more information, see: https://agronomy.unl.edu/adams
Rachel Armstrong
Rachel Armstrong is the founder and Executive Director of Farm Commons, a nonprofit organization dedicated to providing proactive legal education materials to sustainable farmers. She founded the organization after a career as a farm employee and local food system advocate. Education is the core of Farm Commons' programming and Rachel is a sought-after instructor who makes the law relevant and interesting to farmers and attorneys alike. Rachel is licensed to practice law in Minnesota and Wisconsin. She earned her law degree from the University of Denver and teaches Introduction to Food and Agricultural Law online. More information.
Allen Barker
Allen is a senior member of the faculty in the Stockbridge School of Agriculture who served as Head of the former Department of Plant and Soil Science for more than 8 years. He is a well-known research scientist, focusing on mineral nutrition of vegetable crop plants and has published extensively in this area. He was the Outstanding Teacher in the College of Food and Natural Resources, 1992-1993, and teaches both graduate and undergraduate courses related to plant nutrition and soil fertility. He earned his Ph.D. degree from Cornell University and teaches Organic Gardening and Farming online. More Information.
Thomas Benjamin
Mr. Benjamin is an independent registered Landscape Architect and LEED Accredited Professional (AP BD+C) practicing design and sustainability consulting and is Principal of Wellnesscapes. He is the recipient of multiple awards, including three for his sustainable landscape design work featuring healing and productive gardens at Kent Hospital located in Warwick, RI. As a Federal Contractor he has designed successful green infrastructure projects at Veterans Administration and Massachusetts Air National Guard facilities.
Mr. Benjamin has more than 30 years of experience in environmental design and sustainability work often focused on green design, including energy, waste, water and food systems. Mr. Benjamin's site planning work emphasizes low cost, low maintenance landscape solutions for healthcare, academic and senior institutions, public facilities, commercial and residential developments, large-scale solar farms, commercial urban and community farms/gardens. His work has often encompassed enhancement of natural stormwater filtration systems. His design experience includes upland, wetland, and coastal zone restoration using low tech bioengineering solutions. His skills support projects from concept through detailed design, construction, maintenance, permitting and monitoring phases.
Mr. Benjamin's sustainability consulting experience includes energy and solid waste assessments of businesses, institutions and communities. At the community scale, he has helped develop and evaluate a successful downtown composting program. He has been a Board Member of the Ecological Landscape Alliance (ELA) and Grow Food Northampton and was chiefly responsible for developing an organic community garden with incubator commercial plots and layout for 120-acre community farm. He served as Landscape Architect for Boston's innovative Fowler Clark Epstein Community Farm which won a Boston Society of Landscape Architects Award (2019). Mr. Benjamin teaches sustainable landscape design at the University of Massachusetts and has also lectured widely at professional meetings.
Sarah Berquist
Sarah teaches courses in the Sustainable Food and Farming undergraduate program at the UMass Stockbridge School of Agriculture. She offers contemplative and participatory courses in farm-based agriculture education, social justice, food systems, and personal sustainability. She is excited to equip students with practical life skills: the ability to grow their own food, confidence in leading others, community organizing, and critical thinking to solve problems. Experiential learning is at the heart of her teaching philosophy and she loves getting her hands dirty with her students in the field. She earned her Master of Science degree from the University of Massachusetts and teaches Agricultural Leadership and Community-based Education online.
Nicole Burton
Nikki has over 20 years of farming experience with a focus on organic livestock and vegetable production. Since completing her masters degree in Sustainability Science, Nicole has focused solely on the development of innovative, science-based, sustainable animal husbandry curriculum at UMass. Currently her experiential learning programming includes poultry and sheep rotations, organic vegetable production, carbon farming systems and on farm slaughter. Nicole serves on several faculty committees and is an active member of the Sustainability Curriculum Initiative at the University. Along with educating and advising the next generation of small farmers she continues to run a small family farm at her home in Wendell, MA. She teaches Small Farm Husbandry: Pigs & Poultry and Small Farm Husbandry: Goats, Sheep and Cows online.
Linda Chalker-Scott
Dr. Linda Chalker-Scott has a Ph.D. in Horticulture from Oregon State University and is an ISA certified arborist and an ASCA consulting arborist. She is WSU's Extension Urban Horticulturist and an Associate Professor in the Department of Horticulture, and holds two affiliate associate professor positions at University of Washington. She conducts research in applied plant and soil sciences, publishing the results in scientific articles and university Extension fact sheets. Linda also is the award-winning author of five books: the horticultural myth-busting The Informed Gardener (2008) and The Informed Gardener Blooms Again (2010) from the University of Washington Press and Sustainable Landscapes and Gardens: Good Science – Practical Application (2009) from GFG Publishing, Inc., and How Plants Work: The Science Behind the Amazing Things Plants Do from Timber Press (2015). Her latest effort is an update of Art Kruckeberg's Gardening with Native Plants of the Pacific Northwest from UW Press (2019). In 2018 Linda was featured in a video series – The Science of Gardening – produced by The Great Courses. She also is one of the Garden Professors – a group of academic colleagues who educate and entertain through their blog and Facebook pages. Linda's contribution to gardeners was recognized in 2017 by the Association for Garden Communicators as the first recipient of their Cynthia Westcott Scientific Writing Award. "The Garden Professors" Facebook page – http://www.facebook.com/TheGardenProfessors "The Garden Professors" Facebook group – http://www.facebook.com/groups/GardenProfessors Books: http://www.sustainablelandscapesandgardens.com
Renee Ciulla
Renee is a faculty member of the Stockbridge School of Agriculture at the UMass Amherst where she teaches a few campus courses and helps to manage the robust campus internship program. Renee is also the manager and academic advisor of the online Associate of Science and Bachelor of Sciences degree programs in the UMass Stockbridge School of Agriculture. Her Master of Science degree is in Agroecology with a strong focus on experiential education. Renee teaches the following online classes: Professional Development in Sustainable Food and Farming, Building a Sustainable Homestead, Global Food Systems, Organic Vegetable Production, and Farm Management, Planning and Marketing.
Daniel Cooley
Dan's teaching, research and Extension work at UMass focuses on managing plant diseases, and the impacts plant diseases and their management have on environmental and human health. Much of his career has studied major apple diseases, including apple scab, summer diseases and fire blight. Apples are heavily sprayed with fungicides to manage apple scab, and often require one to three antibiotic applications per year for fire blight. A primary research goal is an improved understanding of the ecology of apple pathogens resulting in improved disease management with less chemical use. As part of this, his group studies disease forecast models and web-based decision support systems for collecting and analyzing weather and crop, and works to improve their recommendations to growers. He has frequently done on-farm research projects with growers to improve Integrated Pest Management in fruit crops, as well as promoting adoption of IPM methods. Recently, he has been developing resources to advise farmers and the public on the impacts of climate change on agriculture in New England, and potential methods for adaptation and mitigation. Dan teaches courses in plant disease management, and a course looking at the relationship between agriculture, food and diseases, including human health, as well as coordinating a graduate seminar on plant diseases. More Information.
Scott Debnam
Scott is a graduate of the University of Montana Wildlife Biology program and has 19 years experience managing the research colonies for the University of Montana. He completed his Master's degree in Pollination ecology in 2016 through The University of Montanas Organismal Biology, Ecology, & Evolution program and is currently pursuing a Ph.D. from the Division of Biological Sciences. His research focuses on nest thermoregulation and the economics associated with thermoregulation. He, of course, uses the honeybee as the model species for this research. Scott is a Yale Scientific Teaching fellow that possesses extensive expertise with honey bee ailments and pests. He possesses an intimate knowledge of the insects that he is eager to pass on to others. To that end, he has been an instructor for the University of Montana Online Master beekeeping program for 6 years instructing over a thousand students from 11 different countries and is a reciepient of the 2019 UPCEA award for outstanding online education.
Om Parkash Dhankher
Prof. Om Parkash Dhankher is a plant/agriculture biotechnologist. His research focus is multidisciplinary in nature ranging from crop improvements, environmental remediation to biofuels. Along with strong research in engineering plants for detoxification and phytoremediation of heavy metals, his laboratory is developing arsenic free and arsenic tolerant food crops in order to improve human health using both forward and reverse genetic approaches. Prof. Parkash Dhankher was the first one to develop the transgenic plant based approach for arsenic phytoremediation by combining the expression of two bacterial genes, arsenate reductase- ArsC and γ-glutamylcysteine synthase- γECS, in plants. Further, he characterized the first plant arsenate reductase, AtACR2, from Arabidopsis using the RNAi knockdown approach. His research team is also engineering crops via manipulating key pathways and network of genes responsible for enhanced tolerance to multiple abiotic and oxidative stresses and GSH homeostasis for improving crop yield under changing climate conditions. Additionally, his lab is involved in metabolic engineering of oil seed crops such as Crambe abyssinica, Camelina sativa and Brassica juncea for increased oil yields for biofuels production and specialized biopolymers for industrial uses. Prof. Parkash Dhankher has extensively published his research work in high profile journals including Nature Biotech, PNAS, The Plant Cell etc. and has several patents awarded to him based on his research findings. His research has been widely publicized in numerous leading national and international newspapers (e.g. USA Today, Salt Lake Tribune, The Ottawa Citizen (Canada), Le Monde (France), Indian Express (India) etc.) and science magazines (e.g. The Scientist, National Geography, Science Daily, MIT Technology Review, Geotime, La Recherche (France), Down to Earth, Terragreen etc.). His research has also been featured in headlines on National Geographic Channel, ABC, Reuters, and PBS online project "How we Get to Next"with Steven Johnson etc.
Abrah Jordan Dresdale
Abrah Dresdale (she/her), MA, co-founding Director of Regenerate Change, is a social designer, consultant, and educator. Named a New England Fixer by Grist Magazine, she was the Founding Faculty and Coordinator of the nationally acclaimed Farm and Food Systems program at Greenfield Community College. She later established and led the Jail-to-Farm-to-College & Employment program in Massachusetts' Franklin County Jail. She has been faculty and developed new courses for the Sustainable Food and Farming program at the University of Massachusetts-Amherst (since 2011) and for Omega Institute's Center for Sustainable Living (since 2015). Her former edible landscape design business, Feeding Landscapes, developed projects ranging from the design and implementation of "Edible Pathways" for Sadhana Forest in Auroville, India to providing technical support for the creation of a campus permaculture garden at Wesleyan University. Abrah is certified in Permaculture Design and holds a Master's degree in Sustainable Landscape Design and Planning from the Conway School. She is the co-author of Feed Northampton: First Steps Towards a Local Food System and author of Regenerative Design for Changemakers: A Social Permaculture Guide. She teaches Introduction to Permaculture, and Social Permaculture for Food Justice online. More at: www.abrahdresdale.com and www.regeneratechange.com
John M. Gerber
John teaches courses relating to sustainable food systems at the University of Massachusetts Amherst where he provides leadership for the undergraduate program in Sustainable Food and Farming. He continues to investigate ways in which students are encouraged to explore personal growth and community responsibility through service, reflection and dialogue. His greatest professional joy is to watch young people find their calling (especially when it relates to local food and farming). He was instrumental in helping to initiate student projects at UMass such as the Permaculture Initiative, the UMass Student Farm, GardenShare, and the Real Food Challenge. He received the highest honor awarded a teacher at UMass in 2008 with the University Distinguished Teacher Award. John earned his Ph.D. degree from Cornell University. He teaches Botany for Gardeners and Agricultural Systems Thinking online. More Information.
Susan Han
Susan is a master teacher in the Stockbridge School of Agriculture, well-recognized for her commitment to student learning. She received the Outstanding Teacher Award from the College of Natural Resources in 2017 as well as the Outstanding Teacher in the College of Natural Resources and Environment in both 1995 and 2005 and the Outstanding Advisor in the College of Natural Resources and Environment in 1999. Susan earned her Ph.D. from the University of California Davis and teaches Post-harvest Handling of Fruits and Vegetables, and Introduction to Botany online. More information.
Masoud Hashemi
Masoud's activities at the University of Massachusetts include serving as the Crops, Dairy, Livestock, Equine team leader for UMass Extension, state contact person for nutrient and manure management, pasture management, and agronomic crop production. Other major outreach activities include statewide presentations and workshops on various topics, State Coordinator and State Host of New England Green Pastures. His research program is focused on sustainable food and farming systems with special emphasis in using various cover crops to maintain soil health and to enhance environmental quality. He is the author or co-author of four books including, Seed Dormancy and Germination (2000), Postharvest Physiology (1997), Sustainable Agriculture (1996), and Maximizing Crop Yield (1995). Masoud earned his Ph.D. from the University of Massachusetts and teaches Pasture Management online. More information.
Deborah Henson
Deborah is Environmental Science Program Manager and Chief Undergraduate Advisor in the Department of Environmental Conservation at UMass. Her disciplinary focus is in wetland science and is a Certified Professional Soil Scientist with research interests in vernal pool hydropedology, hydric soil characterization, and plant-soil interactions in wetland environments. Deborah earned her Ph.D. degree from the University of Massachusets and teaches Soil Science and Management online. More information.
Kristin Henningsen
Kristin is a clinical herbalist, yoga therapist, writer, & educator, who first fell in love with plants in the desert southwest. In addition to studying Native American herbal medicine in the Southwest, she has worked in academia and for non-profit organizations in the field of botanical research all over the country. Currently she serves as faculty and clinician for the Vermont Center of Integrative Herbalism, and Purdue Global University's School of Health Sciences. She has been researching, writing, and teaching about medicinal plants for over 15 years. Look for her wandering through the woods, kids and dogs in tow. Kristin teaches Topics in Herbalism online. More information.
Christopher Hobbs
Christopher is a fourth-generation, internationally renowned herbalist, licensed acupuncturist, author, clinician, botanist, mycologist, and research scientist with over 35 years of experience with herbal medicine. He is an acknowledged expert in the field, lecturing all over the U.S., and internationally about herbs and the immune system; adaptogenic herbs, Native American uses of herbs, the pharmacology and chemistry of herbal medicines, herbs for the liver and the botany and taxonomy of herbs. Christopher has taught or lectured at universities and medical schools such as Stanford Medical School, Yale Medical School, John Bastyr College and the National School of Naturopathic Medicine. He received his acupuncture license in February 1995. He has written 22 books on herbs and health, including the recent Peterson's Field Guide to Medicinal Plants of the Western U.S. (with Steven Foster), and the mainstream Herbal Remedies for Dummies, and Vitamins for Dummies (with Elson Haas M.D.). He earned a Ph.D. degree from UC Berkeley in phylogenetics, evolutionary biology and phytochemistry. He teaches Herbs, Spices and Medicinal Plant online. More information.
George Locascio
George LoCascio has taught a multitude of classes ranging from ecology, botany, fire ecology, to general biology. He has taught at multiple institutions across Massachusetts and teaches classes and workshops for the Native Plant Trust. He earned a Bachelor's degree in Plant and Soil Science from the Stockbridge School of Agriculture and a Masters degree from UMass-Amherst in Conservation Biology. In addition, he volunteers for a Western MA land trust where he helps manage pollinator habitat. Currently, George works for Mount Wachusett Community College teaching Horticulture, Ecology, and Forestry.
Deborah Niemann
Deborah Niemann is a homesteader, writer, and a self-sufficiency expert. In 2002, she relocated her family from the suburbs of Chicago to 32-acres on a creek in the middle of nowhere where they built their own home and began growing the majority of their own food. Sheep, pigs, cattle, goats, chickens, and turkeys supply meat, eggs, and dairy products, while an organic garden and orchard provides fruit and vegetables. Deborah speaks across the U.S. and in Canada and is the author of five books, including Homegrown and Handmade and Raising Goats Naturally. She also authors the Thrifty Homesteader blog and website. She has a master's degree from Illinois State University. Deborah teaches Raising Dairy Goats Sustainably online. More information.
Elsa Petit
Elsa's teaching and research revolve around two main interests; viticulture and disease ecology. Her original interest in grapes started in Bordeaux, France. She studied diseases of grapevines at the University of California, Davis where she graduated with a PhD in plant pathology. Elsa's research focuses on how viticultural practices influence microorganisms and more specifically disease-causing (microorganisms) evolution. She teaches courses in viticulture, plant pathology and disease ecology and is also involved in helping students making the transition from vocational agricultural high schools in Massachusetts to the Stockbridge School of Agriculture. Elsa teaches Integrated Pest Management online. More information.
Jaime Pinero
Catherine Sands
Catherine is a front-line community food systems organizer, educator, network facilitator, capacity builder, and evaluator/learning partner living in Western MA. Catherine brings to her work a commitment to social change and a belief in the potential of groups of people coming together to create powerful solutions to entrenched social issues. As director of Fertile Ground, established in 2001, Catherine provides school districts with technical assistance in developing curriculum-integrated teaching gardens, mentoring and evidence tracking programs that unify school communities around growing fresh food and cultivating local knowledge. Since then she has provided technical assistance to the MA Food Planning process, conducting listening sessions with food and justice groups; and is designing evaluation processes for community food projects throughout New England to strengthen the impacts of their programs to improve health and access to good food. Catherine holds a Master's degree from the University of MA/Amherst Center for Public Policy and Administration, with a focus on food access and social justice. She teaches Community Food Systems, and Food Justice and Policy online. More information.
Jennifer Santry
Jen moved to the Olympic Peninsula in 2014 to start her own farmstead. She's currently a full-time advisor at Peninsula College and teaches courses in the Sustainable Agriculture Certificate and Service Learning program. She has worked in the nonprofit sector for over 15 years as an environmental instructor, land and animal conservationist, and local food advocate. Jen graduated from the University of Oklahoma with a BA in Zoology and minor in Anthropology. She completed her Masters in Nonprofit Management with an emphasis in environmental education from Regis University in 2007. As the former Community Programs Director at the High Country Conservation Center in Colorado, Jen spent six years developing sustainable food programs including community gardens, student-run CSAs, and urban farming policies. Jen earned her Masters degree from Regis University and teaches Sustainable Agriculture and Non-profit Management for Community Food Programs online.
Sonia Schloemann
Sonia Schloemann, MS, is a long-time educator with UMass Extension and the Stockbridge School of Ag.  Her early career focused mainly on sustainable commercial strawberry production and grew to include all berries and specialty fruit crops.  Later in her career she specialized in commercial cold climate grape production.  She currently grows a variety of fruits including apples, pears, lingonberries and figs and is expanding her reach to include nut crops.  She led the UMass Extension Fruit Program for over 15 years and has extensive teaching experience in both Adult Education and Academic Undergraduate Education.  In addition to teaching extensively about fruit growing, Sonia has also taught many classes in Soil Health and Native Pollinator Conservation.  Prior to joining UMass Sonia farmed for nearly 15 years in several areas of New England.  She teaches Holistic Fruit Production online.
Marissa Spang
Marissa Spang (Esevona'e), M.Ed., descends from Chief Morning Star through her ke'eehe (Cheyenne grandmother) and of Pretty Shield through her kaa'laa (Crow grandmother). She obtained her B.A. degree in Native American Studies from Dartmouth College and her M.Ed. in Learning Sciences and Human Development from the University of Washington. Her work actively attends to the storied and lived collective continuance of Indigenous peoples, by Indigenous peoples – particularly in the context of everyday human repair, repatriation and practice of respectful relations with the natural world by employing Indigenous sciences and ontologies, while finding ways to adapt/integrate Western science. Such an approach works and emerges directly with/in land – in so doing, a host of ecological relations are restored, as well as Indigenous peoples' knowledges, their sense of self and active, self-determining presence on their territories as good relatives/scientists/citizens.
Rachel Surls
Rachel Surls, Ph.D., is the Sustainable Food Systems Advisor for UC Cooperative Extension in Los Angeles County, part of the University of California's Division of Agriculture and Natural Resources. From school gardens, to urban farms, over her 30-year career she has been involved in a wide array of programs related to food production in cities. She coordinates a team of researchers and educators who provide training, technical assistance, and resources for urban farmers in California. Rachel is a member of the leadership board of the Los Angeles Food Policy Council, and is active in its Urban Agriculture Working Group, which advocates for policies that make it easier togrow food in the city. She is a former Peace Corps Volunteer, and in that capacity worked with small-scale farmers in Honduras. In addition to her training as an agronomist and educator, she is agricultural historian and has written about the history of urban farming.
Kathryn Szerlag
Kate Szerlag grew up on a dairy farm in central Massachusetts. Her upbringing inspired her career path as an environmental soil chemist. She earned both her M.S. and B.S. from the University of Massachusetts, Amherst. She then went to the University of Delaware to earn a Ph.D. in Plant and Soil Science with a focus in environmental soil chemistry. Dr. Szerlag is currently Assistant Professor of Soil Science and Environmental Chemistry at Westfield State University where she teaches Environmental Soil Science, Principles of Environmental Science, and Environmental Chemistry, Toxicology, and Pollution. For her research, she utilizes advanced synchrotron-based radiation to determine the types of phosphorus in agricultural soils. Her current research utilizes synchrotron radiation to determine the effects of sulfate on soil phosphorus types, and losses from agricultural fields. Sulfate is an abundant ion in seawater, and as sea levels rise, the waters will inundate coastal agricultural fields and potentially liberate large amounts of phosphorus from the soil. At UMass, Kate teaches Agricultural Chemistry online