Instructor: George LoCascio       Email: glocascio@umass.edu
Virtual Office hours: Mondays 12:00pm-2:00pm; Wednesdays 6:00pm-7:00pm
Course description: Ever wonder what is eating your garden plants? What are the yellow and black striped insects hovering around your Aster flowers? In Insects of Food Crops, our course focuses on agriculturally important insects, the detrimental and the beneficial. We will identify taxonomic insect orders, identify common features within those groups, and use keys to identify major agriculture important insects to family and some to species. In addition, we will explore conventional and biological methods of pest insect control. We will also discuss insect conservation and diversity. As an optional exercise, students can develop an insect photo collection.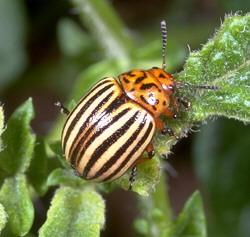 Course objectives:
Learn major taxonomic insect orders important for agricultural crops
Identify important agriculture insects to species level with the aid of keys
Understand common pest insect control methods (Conventional and Biological)
Describe general insect biology and life histories
Instructional method:
Through power point lectures, online quizzes and discussions, reading literature, watching videos, and with various online identifying resources, we will dive into the insect world. We will use the online platform Blackboard. All of these materials will be fair game on quizzes.
Textbook (online as a free PDF):  https://www.zin.ru/Animalia/Coleoptera/pdf/Gullan_Insects_2014.pdf
Optional Textbooks: The Ultimate Guide to Backyard Bugs. Garden Insects of North America By Whitney Cranshaw Princeton University Press, 2004 ISBN: 0691095612     Link to Amazon: https://www.amazon.com/Garden-Insects-North-America-Princeton/dp/0691095612
A Field Guide to Insects By Richard E. White, Donald J. Borror, Roger Tory Peterson
Houghton Mifflin Co, 1998
ISBN: 0395911702
Windowsill Ecology By William H. Jordan, Jr. Rodale Press PA, 1977 ISBN: 0878571574
Helpful resources: Keys to insect orders: http://www.entnemdept.ufl.edu/choate/insecpdf.htm
Massachusetts introduced pest outreach project: https://massnrc.org/pests/
Insect ID (online tool) https://www.insectidentification.org
Tentative schedule of topics and dates: 15 weeks
Week
Major topic(s)
Activity & Assignments
1
1)      Introductions and logistics

2)      Classification, Phylogeny, Nomenclature

Introduce yourself (getting use to Blackboard Discussions)

o   Where are you located?

o   Why are you currently studying insects?

o   What do you want to gain from this class?

o   What is a personal story about an insect encounter you have had?

Read Chapter 7 and 8

2
1)      Life cycles

2)      Life histories

3)      Morphologies

a.       Body structures/features

Read Chapter 6

Quiz 1

·         Classification, Phylogeny, Nomenclature

3
1)      Insect orders
Order Yes through the mail,an IPM catalog (see link below and in Moodle)

Read Chapter 2

Quiz 2

·         Life cycles, life histories, morphologies

4
1)      Insect orders
Start investigating: Choose an insect written report (1-page)

·         What is its nomenclature, phylogeny, classification?

·         What is its life history, cycle, special features?

·         What is its ecological niche?

·         Tell us all about it!

·         Cite your references

·         Send a draft to me by week 9 for feedback

5
1)      Introduction to families within

a.       Lepidoptera

b.      Hymenoptera

c.       Hemiptera

d.      Coleoptera

2)      Others important to food crops

Read Chapter 16

Build an insect (online activity)

6
1)      Crop systems

a.       Apples

b.      Grapes

c.       Other fruits

Chapter 5 Reproduction

Quiz 3

·         Insect orders and their major features

7
1)      Crop systems

a.       Corn

b.      Squash and pumpkins

c.       Beans and peas

Catch up week!
8
1)      Crops systems

a.       Asparagus

b.      Nightshades (Toms, pots)

c.       Allium

d.      Brassica (cabbage, collards)

Reading and Blackboard Discussion

·         Reading: TBA

Discussion Topic TBA

9
1)      Pesticides and the economics of pest control

a.       Use, types, and safety

b.      Extension offices at Universities

Reading a pesticide label Blackboard post

·         Find a pesticide and tell us about the label

10
1)      Biological Control

a.       IPM

b.      Traps

c.       Quarantines

d.      Parasitoids/parasites

Read Chapter 13

Quiz 4

·         Insect families, species, and crop damage

11
1)      Beneficial insects

a.       Pollination services

Reading and Blackboard Discussion

·         Reading: TBA

Pollination services

12
1)      Conventional Control

a.       Best practices

b.      Pesticide history and use

b.      Fungicides and effects on bees

Reading and Blackboard Discussion

·         Chimney swift diet article

Did DDT affect Chimney swift diets?

13
1)      Insect ecology and evolution

a.       Boom and bust cycles

e.       Co-evolution

Chapter 8

Quiz 5

·         Pest and beneficial insects, Biological control, Conventional control

14
1)      Insect Conservation and biodiversity

a.       Hedgerows and strips

b.      They run the globe!

c.       Bombus affinis

Read Chapter 1 The importance of Insects and Chapter 17

Reading and Blackboard Discussion

·         Reading: TBA

·         How much should we protect?

15
2)      Wrap up and final quiz/ Insect investigation presentation/ Insect photo collection presentations (Optional)
Quiz 6

·         Insect ecology, conservation, and biodiversity

Present your insect investigation write up

·         Present your insect photo collection (optional)
Assignments: (Details of these assignments will be provided in future documents through the semester and posted in Blackboard)
Quizzes, Worth 30%
6 quizzes, worth 5% each
If a quiz is missed and needed to be made up, a reduction of 5% will be implemented
Insect investigation Write-up, worth 25%
1-page write up on an insect of your choosing
Build an Insect, worth 15%
Assessment of insect morphologies
Blackboard discussions, worth 30%
Introductions to the class, worth 5%
Forum/discussions on current research and topics, worth 25%
Insect collection (Optional), Extra Credit, worth 5 points on your overall final grade
Details will be provided upon request
Grading
Quizzes, Worth 30%
Insect investigation Write-up, Worth 25%
Build an Insect, Worth 15%
Moodle discussions, Worth 30%
Total 100%
Insect collection (Optional), Extra Credit, worth 5 points on your overall final grade